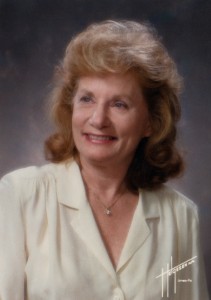 It feels like a subtle era has shifted in my life.  How did the dinosaurs know when things had transitioned from the Palaeozoic to the Mesozoic era?  Maybe it was some similarly quiet passing.
My maternal grandma, Lorraine Davis, passed away yesterday at the age of 93.  She's was my last living grandparent (although Bryan's Grandma Jo is still with us and is doing well!).  I've been thinking about it, and it feels really odd to not have my grandparents around.  They've been such a constant my whole life.  So many memories from my growing-up years included them.  And now, one by one, they are all gone.
My grandma's husband, Grandpa Joe, passed away four years before I was born.  Mum (which is what I called my grandma) missed him every day, as far as I could tell.  The last thing she said was that she would get to see her husband soon.  Mum had so valued being married, and she didn't like being a widow.  I asked my mom about that once, and she said that sometimes bad things happen and people adapt and move on; but that sometimes bad things happen, and for that person, life isn't really ever OK in the same way again.
Mum had elegant, refined taste.  She loved interior design, beautiful furniture, well-crated items.  My mom grew up amidst fabric samples and paint swatches.  Mum's interior design busines, The Eloquent Touch, allowed her to share her lovely sense of style with others.  Mum was proper and liked things just so.  She grew up in the Milwaukee during the depression, and she spent much of her adult life looking toward a level of comfort that she keenly missed during her childhood.  Butter had been hard to come by… margarine was more affordable, and as an adult she wouldn't consider using margarine.  I think that was only in part because butter tastes so much better:)
Mum made her way in the world for decades after losing her husband.  She was 54 when Grandpa Joe died, and she worked hard, with lots of courage, to support herself through the years.  She tutored a wide array of students, sometimes working with prisoners at the local jail.  I don't think it was easy, but she did it well.
I grew up an hour from Mum, and I spent a number of weekends visiting her as a child.  These last days, memories of some of those visits have come trickling back.
I loved Mum's dogs.  Her black poodle, Mutzi, and her white poodle, Carrie were good playmates.  When Mum would tell Mutzi that they were going to visit Margot (my mom), Mutzi would leap high into the air.
Mum would come to Madison to visit us, and as a newly speaking toddler, I would look at her and say, "shop-ping?"   Mum loved to shop.  My mom loved to shop.  My sister and I love to shop.  It's hereditary.  Shoes, coats, and handbags are particular obsessions.  One day in high school, I noted that I thought I might have maxx'd out my storage space for shoes.  I said that I thought I'd work on my coat collection next.  Mom laughed and asked if I'd ever noticed the closets of coats that Mum had.
I imagine that in prehistoric times, grandmothers, daughters, and granddaughters would get together to pass along wisdom about the powers of medicinal herbs or the best way to fillet a mastodon.  My grandmother and mother taught me how to find stellar purchases at Marshall Fields or TJ Maxx for 75% off.
Mum showed me how to polish her silver.  She loved her silver flatware and desk set and took pride in taking good care of it.
I learned about quality fabric from Mum and my mom.  Natural fibers (especially wool) were esteemed.  Good tailoring was inspected.  The fit, the drape, the details were examined with a thoughtful touch.  In later years when stokes and age had clouded her mind, she would come back into sharp focus as she remarked on my flower-embroidered winter jacket or the leatherwork on Sylvia's baby shoes.
When I spent the night at Mum's, I would fall asleep in the deep dark (no night lights!).  It was a bit unsettling.  So was the sound of the whippoorwill singing into the night.  In time, I came to love that song, and the stillness of her home in the woods.
Mum's home was near a cold spring, and on several occasions, the two of us would walk down to the stream, roll up our pants, and wade into the icy water.  We'd pull up watercress by the fist-full and take it back home to wash off the dirt and critters and make it into a very sharp-tasting salad.  I liked the picking part much more than the eating part:)
The paths near Mum's house were sprinkled with walnuts, chestnuts, and acorns.  I remember her encouraging me to taste them, and the bitter taste still comes to mind when I smell fallen nuts.
Sometimes Mum would take me out on a nighttime walk.  I remember walking along the twisting roads in the woods near her home, petrified contemplating all the creatures lurking the the woods.  I didn't want her to know I was afraid, so I decided to put all of my fear into one side of my body and to keep the hand that was holding her hand calm and relaxed.  When she asked me what was wrong, I realized I'd gotten it backwards, and the hand that was gripping hers was tense with my unspoken fears.
Mum wasn't what I'd call an easy person.  She had a strong will, a strong sense of what was right, and she in my experience, she didn't hesitate in sharing her convictions.  Over the years, there were times when Mum and I clashed and there were times when we got along famously.  Not an easy person.  I think, though, that in some ways, I always sought her approval.  I was just remembering an intense term in college when I had taken physics with calculus without the prerequisite courses (dumb, dumb, dumb).  Having just failed another quiz, I called my mom from the phone in the computer lab.  Choking back sobs, I asked her just not to tell Mum or my grandparents (like that would have been her first inclination!).  I wanted them to be proud of me.
Mum was very conservative.  Her Lutheran faith was one of her defining characteristics.  Until her generation, there had been a Lutheran pastor in the family for many generations into the past.  Things relating to church and to piety appealed to her soul.
****
I miss my mom in some way every day.  With the passing of my grandma, I feel like the earth has lost an important person who knew my mom.  I also feel like the conveyor belt of time has notably moved forward.  I'm now an adult with kids of my own.  Grandparents are moving on, and everyone I know is moving inexorably away from birth to death.  It's odd to contemplate.
My mom worked extensively on our family genealogy.  Here's my entry (somewhat dated…it's missing Sylvia!).  Mom created our genealogy heading back in several branches to the 1400s.  Thinking of our family as a tree, I feel like I watched my grandparents go through the autumn and winter of their lives.  At the time, I was a new spring branch.  Now I'm in my summer, and my own kids are growing their own spring branches.  The seasons change, the eras shift.  Time goes by.
For a slideshow of pictures of my grandma, visit this link.  A gallery with the option to download images is here.
Finally, here's Mum's obituary.  Rest in peace, my grandma.
Lorraine C. Davis, age 93, of Waukesha and formerly of Janesville and Beloit, died on Monday, Feb. 20, 2012, at Virginia Health & Rehabilitation Center, Waukesha, WI. She was born in Milwaukee on Jan. 24, 1919, the daughter of Henry and Tekla (Loeber) Bergmann. She graduated from South Division High School and UW Whitewater in 1940. She married Joseph L. Davis in Texas in September of 1942. He preceded her in death in 1973. Lorraine taught classes in High School, Vocational School, and tutored Math students throughout her life. She was also the sole proprietor of "The Eloquent Touch", an interior decorating service in Janesville. Lorraine is survived by 3 children: Peter (Marci) Davis of Port St. Lucie FL, Kate (Greg) Brand of Lynnwood WA, and Kirk (Susan) Davis of Plano TX; 7 grandchildren; 2 great grandchildren; and 3 siblings: John (Lois) Bergmann of Milwaukee, Edgar (Helmi) Bergmann of Germany and Carol (William) Lamm of Oconomowoc. She was preceded in death by her parents; husband; daughter, Margot (Kim) Babler; brother, Robert Bergmann; and sister, Mildred Klumb. A Funeral Service will be held at 1:00 p.m. on Thursday, Feb. 23, 2012, at OUR SAVIOR'S LUTHERAN CHURCH, Beloit with Rev. Erik Jelinek officiating. A visitation will be held on Thursday from 12:00 to 1:00 p.m. at the church. Interment will be in Eastlawn Cemetery, Beloit. In lieu of other expressions of sympathy please send memorials to the Heart Association or The Time of Grace Ministry. SCHNEIDER APFEL SCHNEIDER & SCHNEIDER FUNERAL HOME & CREMATORY is assisting the family.