Dotzourfamily.com has been live for seven years.  My blog dashboard says I've written 1,241 posts and have received 2,143 comments (oh, how I have loved getting comments over the years).  When Mom was sick, this blog was such an important tool for sharing news of hear health journey.  It was where we shared news of both babies being born, major family milestones, holidays, sickness and injury.  This blog was one of my main tools for maintaining sanity after Sylvia was born and I was home full time.  I am SO thankful that I could take the rough, long, or hard days and spin them into stories that would make people laugh.  I used this blog as a plantform for reflecting on life.  It helped me live more intentionally as I relived moments by writing them down.  Now I have a record of my early parenting years.  It feels good to know it's there for posterity.
Sometime in 2010, I started blogging less about what I was thinking and more about what we were doing.  Then in 2011, I found myself switching gears in my blog writing.  I no longer felt the compulsive need to write.  I wasn't composing posts in my head.  I didn't have that itchy, "Must write blog post before going to bed" feeling that had been my close companion over the previous years.  In the second half of 2011, nearly all my blog posts were annotated photos.  They were more a record of our days.  I just wasn't feeling need.
So after finishing up our Christmas trip blog posts, I decided to take a break.  I thought about posting an "I'm taking a break" note, but I wasn't sure that I would actually stick to it, so I just left things hanging.  and in the following six months, I haven't even contemplated blogging.  So I guess it was time for a break!
While I'm not posting at the moment, I am uploading new photos to my Flickr photostream on a very regular basis.  I've maintained my compulsion to edit and upload family photos before the sun sets on the day.  So if you want to see what the Dotzour family is up to, that's the place to look.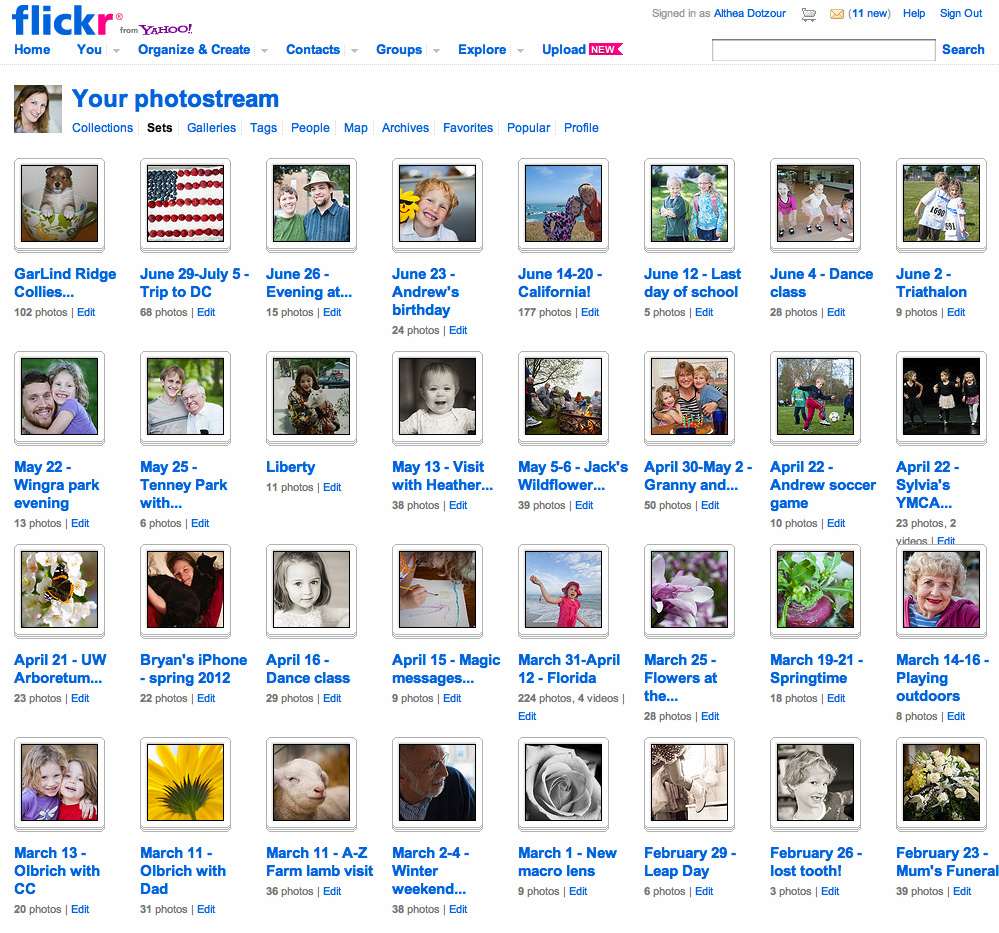 To see my photos, you've got a few options.
Bookmark http://www.flickr.com/photos/adotzour/sets/  This is the home page for my photo albums.
Subscribe to the rss feed for http://www.flickr.com/photos/adotzour/  This will have every photo I upload shoot into your rss reader.
Visit the photo page of DotzourFamily.com http://dotzourfamily.com/pictures/ This just pulls all the photos from Flickr into my website.
For the time being, these are the best ways to see pictures of the kids and to see what's up in our lives.  And until further notice, this blog is on hiatus.  I imagine that at some point, I'll be back:)
Cheers!
~Althea